Kindergarten Boskovice is focused on nurturing individual needs of children and prepares them for their entry into primary school. It is attended by 463 children, which are divided into 20 classes. The kindergarten consists of three separate workplaces: Lidická, Na Dolech and Komenského.
July 2018
Rebranding
Visual identity
Ilustration
Create a shared identity for the kindergarten and its three buildings. Modernize the old logos while retaining their original meaning, so that it looks credible and professional. To make it clear that kindergarten Boskovice is a pleasant, quiet, friendly environment for even the smallest ones
We helped kindergarten refresh the brand. We prepared a visual identity and had also designed all the important printed materials and even created illustrations of animals to mark each class.
Kindergarten rebranding? Why not!
Helping with rebranding a kindergarten was a challenge we gladly accepted. Although we focus more on logos and identities, the project theme was something a bit different from our normal work.
We reflected the original meaning of the old logos during the process. They now have much wider use and are easier to work with. The main nursery logo is made up of individual logos of the nursery schools.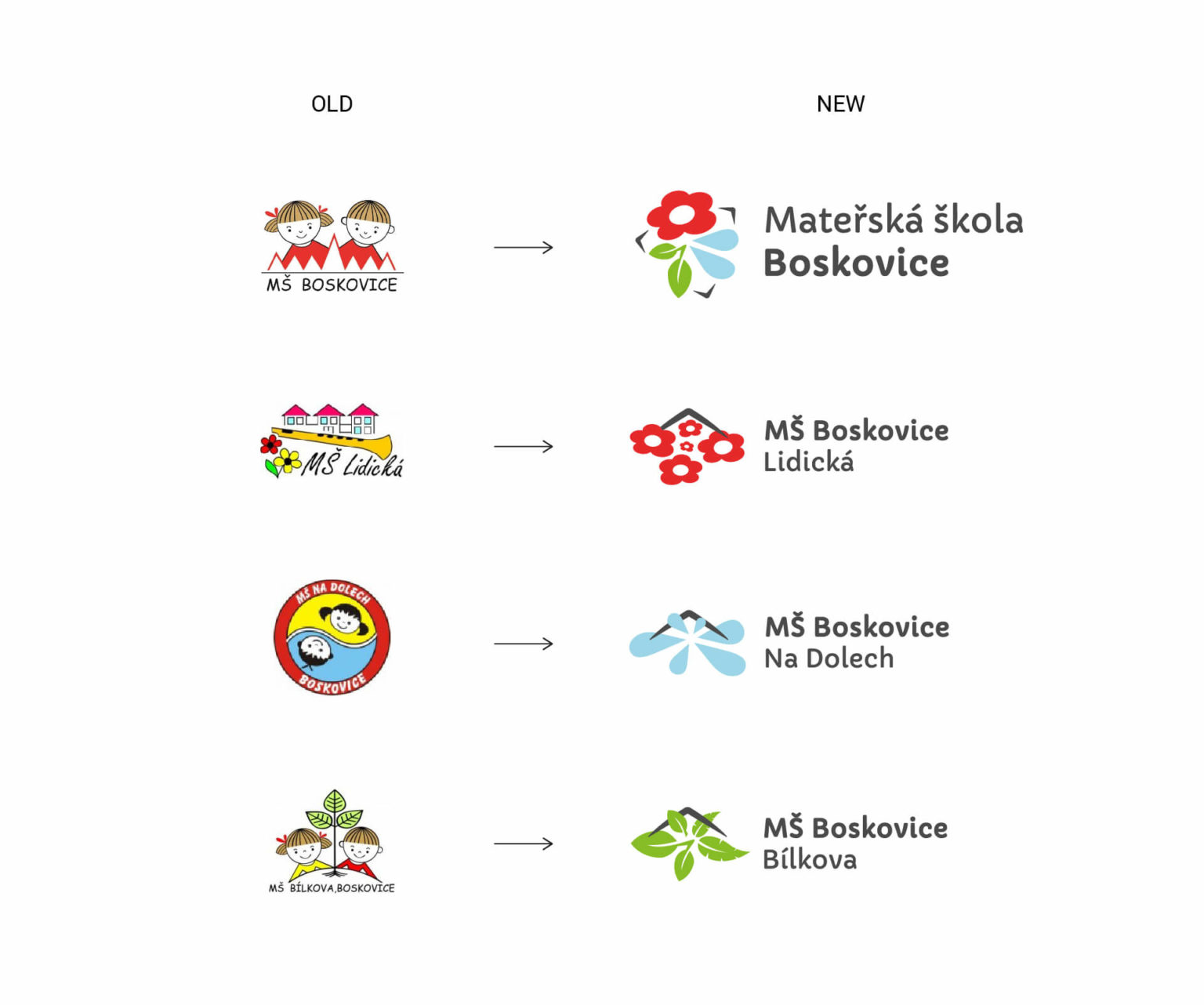 Part of our work was to design important documents and promotional items, which further presented the refreshed visual identity.
All of the important rules and information were processed into a brief logo manual. This will help the nursery with working with the brand, minimizing possible errors and confusion in production.
We also created nine illustrations, each representing one kindergarten class. We illustrated them in a way reminiscing the new visual style and at the same time we took care to make them to be beautiful to look at for children.